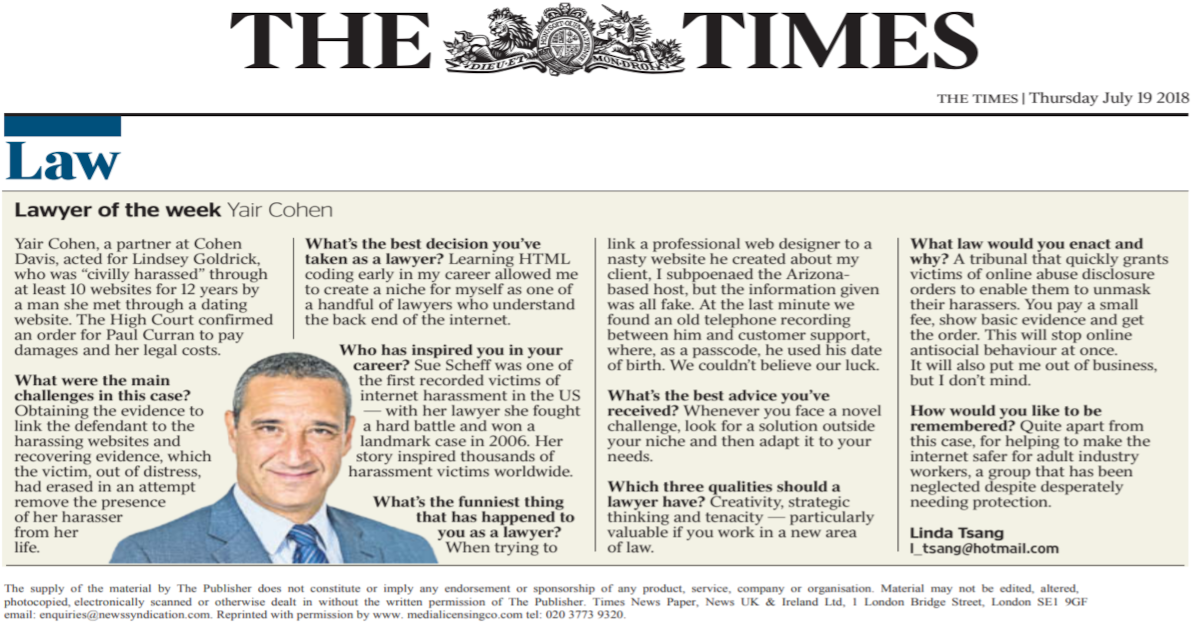 The most important online harassment cases in the UK
If you want to know whether your case of online harassment can succeed in court, you will need to look at previous online harassment cases.
Different cases of online harassment
Typical cases of online harassment
Challenging cases of online harassment
Latest online harassment cases
There are different types of cases of online harassment. Common cases of online harassment vary with relatively straightforward online harassment where the victim is being harassed through blogs, Twitter, Facebook or email.
Other types of online harassment cases are cases where there's a mixture of online harassment, defamation, breach of privacy and misuse of private information. Often cases of online harassment are easier to prove than cases of defamation. The reason for this is that all that is needed to be demonstrated when it comes to a case of online harassment is that there was harassment, or that someone was being harassed and that the perpetrator of the harassment either knew or ought to have known that their action amounted to harassment.
Typical cases of online harassment include cases of false accusation of sexual assault or even rape made on social media, cases of blackmail and extortion, which often start following exchanges of text or social media messages of a sexual nature. There are cases of boyfriends, girlfriends or husband and wife who had been separated where one of them is simply unable to accept the new situation.
Also common are cases of harassment against a company and harassment against company directors, often where the victims are either large organisations or directors and officers of those companies. Cases of harassment against sex workers happen very often particularly historic cases where it took the victim several years before she was able to speak out and lastly, harassment following personal vendetta where the harasser had created websites or publishes blogs with the purpose of harassing and distressing the victim.
Our law firm has dealt with all of the above-mentioned types of online harassment cases and has achieved nearly 100 percent success rate for our clients. We will continue to add case studies of harassment particularly ones where the court is making a ruling, which is unique or significant and which is likely to affect future online harassment cases.
Our harassment solicitors specialise in harassment cases which are particularly challenging. Details of many of the harassment cases that our lawyers have been involved in, will never be published, for obvious reasons. When they do get published, often we make sure that the court anonymises our client's name and other details from which our client could be identified.
Many of the cases we write about are of at least some notoriety because either the circumstances of the harassment were as such that were never seen by the courts before, or because we needed the judges to create a precedent due to the unique nature of the harassment that our client was facing